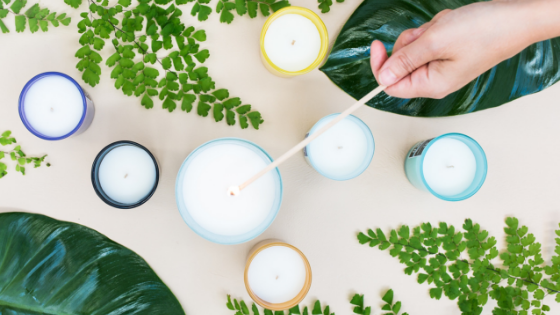 You can buy scented candles at the store, but it's so much easier and more enjoyable to make your own. You can customize the scent to your liking. To source the supplies, visit a craft store near your apartments in Arlington.
What You'll Need:
Jars for candles, such as a small Mason jar or even an old candle jar
Essential oils (whatever scents please you)
Masking tape
Beeswax squares
Candlewicks
Wooden chopstick or popsicle stick
Old saucepan (one you don't use for food)
Hot glue gun
Hole punch
Instructions:
1. Cut a length of wick. It should extend at least 2 inches above the top of your candle jar.
3. Place a dab of hot glue on one end of the wick and secure it to the bottom center of the jar.
3. Tape two sections of masking tape at cross sections over the mouth of the jar so they make an X. Gently make a hole in the center of the masking tape where they intersect with a hole punch.
4. Thread the wick through the hole so it's standing straight in the jar. Use a smaller piece of masking tape to make the wick taut.
5. Melt the beeswax in the saucepan on very low heat, stirring constantly with the chopstick or popsicle stick.
6. Add 16–20 drops of essential oil into the melted wax, and stir gently with the popsicle stick or wooden chopstick.
7. Pour the melted wax slowly into the candle jar, being careful not to displace the wick.
8. Allow to cool at room temperature for 24 hours.
9. When the wax is completely set, remove all the masking tape.
10. Snip the wick so it's a reasonable length from the top of the wax, about an inch.
Tip: If you want to make a colored scented candle, stir in a few drops of natural food coloring into the melted wax just before you pour it into the candle jar.
These scented candles make thoughtful gifts, too. You'll want to keep some for yourself because their attractive scent will enhance the ambiance of your apartments in Arlington. To see available floor plans in person, please contact us today!