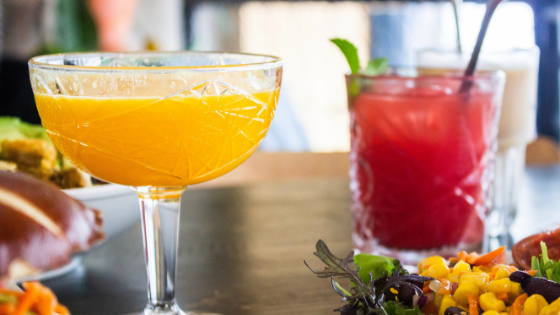 Fall parties call for amazing serve-yourself beverages. That's why we hope our Citizen at Shirlington Village community members in Arlington, Virginia, enjoy these five punch recipes.
Hawaiian Punch for Kids or Grown-Ups
There's something iconic about Hawaiian Punch. Whether that comes from all the upbeat advertisements or its unique sweet yet tart flavor is not important. Regardless of why you like it, this punch can satisfy the taste and thirst of party-goers young and old.
Gather These Ingredients
1 gallon Hawaiian Punch
30 ounces pineapple juice
2 liters Sprite
10 scoops vanilla ice cream
1-quart quality vodka (for the adult version)
Pour all of the liquid ingredients into a large punch bowl and refrigerate until cold. Place one scoop of ice cream in a mug and pour punch over it. Use the vodka-only version for guests over 21 years old, and the ice cream may be replaced by ice cubes.
No-Alcohol Lemon-Lime Party Punch
Although citrus-based punches are commonly enjoyed during the summer months, they are equally delicious on a warm fall afternoon. This nonalcoholic beverage provides enough thirst-quenching benefits and taste for any get-together.
Gather These Ingredients
1 gallon Lemon Lime Splash Hawaiian Punch
12 ounces pineapple juice
2 liters Sprite
Ice cubes
For this punch recipe, it's easier to refrigerate all of the ingredients before mixing them in a large punch bowl. Simply pour, mix and serve over ice. A nice touch may be a frosty mug!
Massive Moscow Mule
The Moscow Mule drink has been hotly trending over the past few years. It's a welcome surprise to have a large punch bowl filled with this beverage ready for your guests. Just remember to have those iconic copper mugs to deliver the full experience, comrade!
Gather These Ingredients
4 cups ginger beer
4 cups ice
3 cups Russian vodka
1 cup lime juice
1 cup mint leaves
4 sliced limes
Refrigerate all of the liquid ingredients, two sliced limes, and mint leaves, and pour this mixture into a large punch bowl as guests arrive. Keep an ice bucket filled nearby for friends to scoop into their copper mugs. Keep two sliced limes aside for garnishing. Nostrovia!
We hope our Citizen at Shirlington Village residents enjoy these amazing punch recipes. If you or a friend would like more information about our Arlington apartments, call us today